Wednesday, August 22, 2007
The Perfect Candidate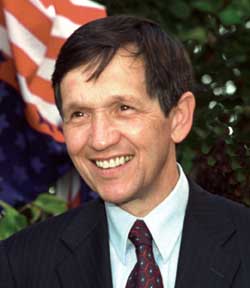 Have you heard of
Dennis Kucinich
? Unless you're really into politics or a loyal Democrat, the odds are, probably not. Did you know he's running for president? Did you know that he's one of the few candidates known for actually speaking his mind and standing on principle rather than merely playing politics? Did you know that he is increasingly popular among progressive voters and tends to win nearly every Democratic debate?
So why haven't you heard much about him? Simply put, because the media has already decided that Kucinich can't win, and so they don't focus on him. They've decided for us who the front runners will be, and therefore don't bother to give much attention to any other candidates. Isn't it nice to know that the media thinks they can play king maker? The crazy thing is that I hear so many people say something like "Dennis Kucinich is my ideal candidate, it's just unfortunate that he can't win." You know what? He
could
win if all the people who like him would get behind him
and
if the media would stop acting as if the election is a foregone conclusion.
Here's what I like about Dennis Kucinich:
And what I like best is that these aren't just minor points to him, these are the driving and defining issues of his campaign. In short, he's a true progressive, one who speaks the language of justice and compassion and takes a stand for what is right. However, he also seems to be able to find a third way apart from mercenary political gamesmanship on the one hand (of the type which Senator Clinton seems particularly well suited for) or stubborn adherence to a particular political ideology (the dominant style of the Bush administration these past 7 years). Rather, he seems someone who is willing to what is best for the people even if it costs him political points. You might say he's a pragmatic idealist who puts the people first. (For example, check out the
story
of how he protected the citizens of Cleveland from drastic utility rate increases even at the expense of his immediate career.)
Frankly, he's my ideal candidate, and since I believe in voting for the person who actually represents your concerns and not just who you think will win, I'm happy to declare my support for
Dennis Kucinich for President
.
Tags:
Labels: politics
posted by Mike Clawson at 12:34 PM |
Permalink
|


Links to this post
Links to this post: