Sunday, June 12, 2005
Viva Las Vegas!
After Yosemite we headed south past Fresno, Bakersfield and the Mojave Desert to Las Vegas. I had never had a huge desire to go to Vegas, it's just not my kind of town, but at the same time, I figured that since we were so close and it was a natural stopping point on our trip back, we might as well stay a few nights and experience it just to say we had been there, done that. In retrospect I'm glad we did. It was a fun time.
Fortunately hotels are cheap in Vegas (they want you to spend all your money at the casinos) so we were able to get a decent room at the Stratosphere at the north end of the strip. As you can see, it's claim to fame is it's huge tower from which you see a magnificent view of the city. We were able to go up for free during the daytime. For the daring there is even a roller coaster and other thrill rides up on the top of the spire (including one that dangles you out over the Strip in nothing but a chair and a harness).
I thought about giving it a try but decided not to spend the time and money. The hotel also had a nice outdoor pool and a casino down on the main floor. We tried out the casino a little bit while we where there. I like Blackjack the best (mainly 'cuz I could understand it and sometimes even win) and Julie really took to Roulette. She had a pretty good system down and was actually making some money for a while but in the end we lost about $20. Not too bad really and well worth the price of entertainment. (I tend to think of gambling as simply entertainment. In my mind there's not too much difference between spending $20 at the movie theater or $20 as a casino. As long as it doesn't become an addiction or wasteful it's no big deal.)
In the afternoon we went out to the
Star Trek Experience
at the Las Vegas Hilton (I know... we're nerds). We browsed through the gift shops and bought a bottle of Romulan Ale (should have bought two so we could actually drink one), but unfortunately Quarks Bar (a la Deep Space Nine) was closed for a wedding reception. We also got to go through the Star Trek museum. They even had a "live" Klingon and a "live" Borg there. We skipped on the simulator experiences though, since Emma was too little for them.
Later that evening we went for a walk down the Strip to see all the cool hotels. Though it was a little hard on the feet and Emma was pretty cranky by the end of it, it was neat to see all the unique themes, though the whole place had this overdone kind of kitschy feel to it (though I guess that's kind of the definition of Las Vegas). Anyway, we saw the lions at the MGM Grand, the fake skyline of
New York, New York
,
the Excalibur "castle",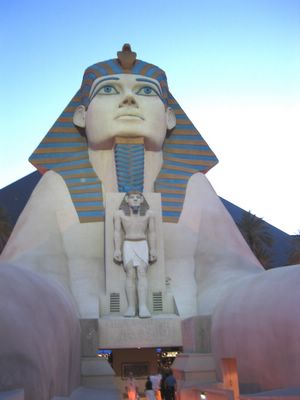 the Egyptian themed
Luxor
, and a few others along the way like the
Mandalay Bay
, the
Bellagio
(of Oceans 11 fame - the fountain light show was pretty cool!),
Ceasar's Palace
, the
Aladdin
, etc. Las Vegas is an interesting place at night. I'm pretty sure I saw at least one cross-dressing hooker walking the streets. :o
Oh, and one more thing about Vegas: the buffets are great! Especially the all-you-can-eat seafood buffets. :)
Anyway, we only spent one full day in Vegas and then continued on west to Albuquerque...
posted by Mike Clawson at 11:46 PM |
Permalink
|


Links to this post
Links to this post: